Stone Sculpture by Dan Skinner Sculptor
| | | | |
| --- | --- | --- | --- |
| Demetria | Valentina | Calista | Venus |
| | | |
| --- | --- | --- |
| Damali with Damali | Hawaiian FishHooks | |
The Sculptural Excellence of Dan Skinner...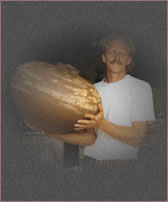 Similar to ancient man, Dan Skinner slowly, meticulously, hand builds pinch pots from a single lump of clay. Pinching, pressing and stretching, hour after hour, until the clay evolves and takes life. He creates exquisite art out of passion for clay, the primal medium, the connection to Mother Earth. large, aesthetic pots are masterfully sculpted into elegant works of art, each showing startling newness, melding a conscious rebirth of ancient techniques with bold, modern innovation.
more on Dan Skinner Sculpture...
Making beautiful, distinct sculptures fires his passion, sustains the challenge and shows the genius of Dan Skinner artist and sculptor and his work.