About Dan Skinner Sculptor of Stone Sculpture and Bronze Sculpture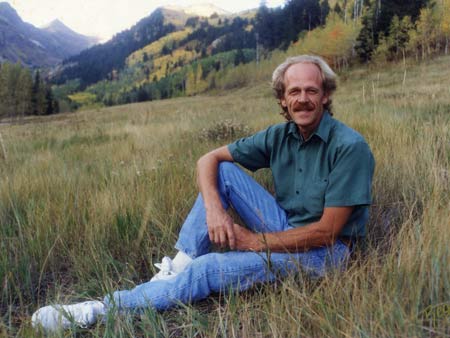 Dan possesses a determination to create original Art. A quest for beauty. A love of earth and clay. All led Dan Skinner to invent new ceramic techniques, innovative graceful forms, and sculptural realism that have become his trademark. His works include human and animal forms, both abstract and representational, as well as inanimate objects and large rare vases.
The Sculptural Excellence of Dan Skinner...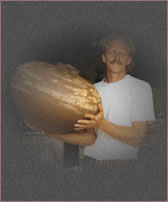 Dan was born in the USA in 1950. He began clay modeling in 1958 and has maintained a passion for sculpting to this day. Early influences include being raised in the ranch lands of northern Idaho and Northern Arizona. He studied sculpture and ceramics at Northern Arizona University and BYU Hawaii. Since that time he has lived all though the West, most notably spending 9 years in Alaska and 9 years in Hawaii. Dan taught portrait sculpture and ceramics at the Hui No'eau Visual Arts Center in Maui Hawaii until 2001 when he relocated to Australia. He is now focusing on creating human forms, chiseled from stone, and does portrait sculpture commissions. Dan truly has a gift for capturing grace and beauty within realistic forms.
Dan has completed various commissions, done public artwork, and shown in galleries across the United States and now in Australia.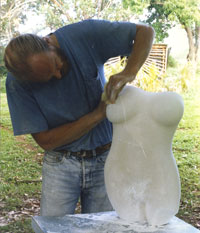 Dan working on Marianna (stone sculpture)
Dan Skinner Biography continued...
As a boy of eight, Dan spent hours studying pictures of ancient Greek sculptures. The most inspiring was the Laocoon, a marble stature showing Laocoon and his two sons in the tragic death grip of a large serpent -- the same work that made a tremendous impression on Michaelangelo. On a family outing he noticed a vein of native clay in the hillside and did not rest until his mother had talked a nearby road crew into digging some up for them. They took this clay home in the family car and Dan proceeded to sculpt a bust of a dog -- his first hands-on experience with clay. It was entered in the county fair art contest, but the jurors reentered it in the ceramic mold division thinking no one, especially not a child, could sculpt so well. His mother was enraged, but Dan was happy because he still won a blue ribbon. His life's passion began.
Dan's family moved to Arizona while he was in school. Experiencing the desert, exploring Indian ruins, finding artifacts and pottery shards, roaming Oak Creek Canyon and visiting art galleries in Sedona, left an indelible impression on his artistic vision. His work includes large, innovative and rare pinch pots and sculptures of American Indians.
After spending seven years in Alaska, experiencing the ruggedness of the arctic and fishing to his heart's content, Dan made Maui his home in January , 1990, fulfilling two lifetime dreams. He has always had a love affair with the Hawaiian Islands and has visited for months at a time. the stimulating combination of the island's beauty and weather is a integral part of his creativity.
The consummate teacher...
Dan has taught many the art of sculpting over the years. Sharing his vast knowledge of carving and forming. Below, please find some photos of students through the years.