Bringing Stone and Form to Life
Dan Skinner, master sculptor, recalls with exact vividness his initial foray into the world of sculpture and the wonder of creation. At the age of eight, Dan began what was to be his lifelong vocation. A simple lump of clay, meaningless to us, but to him the potential in this formless mass spoke to his soul.

To the right, Queen Kaahumanu a Limited Edition Bronze Sculpture, completed in 1996 by Dan Skinner. This bronze monument stands 8 feet high and is located in the Queen Kaahumanu Center Maui Hawaii.
Dan welcomes commission sculpture.
The Sculptural Excellence of Dan Skinner...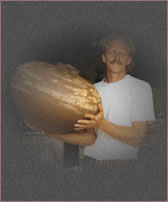 Similar to ancient man, Dan Skinner slowly, meticulously, hand builds pinch pots from a single lump of clay. Pinching, pressing and stretching, hour after hour, until the clay evolves and takes life. He creates exquisite art out of passion for clay, the primal medium, the connection to Mother Earth. large, aesthetic pots are masterfully sculpted into elegant works of art, each showing startling newness, melding a conscious rebirth of ancient techniques with bold, modern innovation.
more on Dan Skinner Sculpture...
Making beautiful, distinct sculptures fires his passion, sustains the challenge and shows the genius of Dan Skinner artist and sculptor and his work.